Come and see how well you match up against the elite High School competition at ESPN Wide World of Sports Complex. Our state-of-the-art facilities will provide you with the perfect setting to perform at your best. Continue your magical experience after the meet by visiting the
Walt Disney World
® Theme Parks.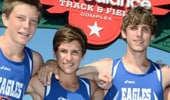 Spring Training Special Offer
Teams who participate in Disney Track & Field Spring Training will receive complimentary team entry to participate in Disney's 2015 Track & Field Meets. Contact your Disney Track & Field Sales Team at 407-938-3803 for more information on this offer.
Team Travel Solutions
Our service and expertise ensure an event experience like no other! Traveling with a team can be hard work, so we've designed solutions to help you make the most of your trip. Once you arrive, you'll find first-class event management at a family-friendly environment for team. Start planning today by clicking the Planning tab above.
Professional Quality Competition Venues
Competing at ESPN Wide World of Sports Complex at Walt Disney World Resort means you'll get to play where the pros play. ESPN Wide World of Sports Complex features professionally maintained competition venues. Click the Map to the right for a detailed view of the Complex.
EVENT AT A GLANCE
DATES
Event:
March 28, 2015
Early Registration:
$145 per team per gender – through January 9, 2015
Registration:
$190 per team per gender – January 10 – March 24, 2015
ELIGIBILITY
High School
Must be a current member of your state High School Athletic Association (http://www.nfhs.org/stateoff.aspx) as well as under the rules of the National Federation of State High School Association (NFHS), and be able to compete according to your state's rules and regulations. Only grades 9 through 12 are eligible to participate according to NFHS sanctioning guidelines. Teams are responsible for verifying their team's eligibility prior to registering or making travel arrangements. Teams only, no individual athletes.
Age Divisions:
High School grades 9 through 12
COMPETITION LEVEL
Moderate – High
FEES
TBD
- Beginning of dialog content.
Sorry
You must be registered for an event during this weekend to see participant content.
- End of dialog content.
- Beginning of dialog content.
Please Sign In
- End of dialog content.