DWWS_Events_Soccer_DisneyPresidentsDay_EventDetails_Register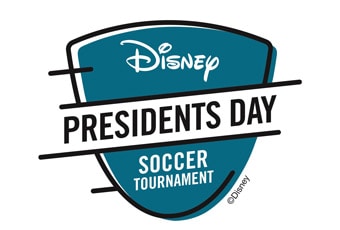 We're excited to have you visit Walt Disney World Resort for the 2023 Disney Presidents Day Soccer Tournament at ESPN Wide World of Sports Complex! Please be sure to review the following important information before you register and visit the
microsite for more details
.
EVENT AT A GLANCE
DATES
Event:
February 17 - 20, 2023
ELIGIBILITY
This event is an FYSA Sanctioned Tournament that is open to all USSF/FIFA affiliated organizations in the proper age groups for the event.
Age Divisions:
U9-U19* – *Please visit the event overview for detailed/specific age groups.
Player Eligibility:
Players ages U9 to U19 may participate. Ages are based on USYSA guidelines for 2022/2023 birth year and season.
COMPETITION LEVEL
Moderate – High
TEAM ENTRY FEE
U9/U10 (7v7): $875* or late entry fee $975
U11/U12 (9v9): $950* or late entry fee $1,050
U13-U19 (11v11): $1,150* or late entry fee $1,300
*Early Entry Deadline Tuesday November 8th, 2022
APPLICATION DEADLINE
Friday, January 20, 2023 *This event may reach capacity prior to the deadline.
CONTACT
Disney Soccer Sales Office
Email Us
Events may be subject to availability, capacity limits, eligibility requirements, delay, change or cancellation due to inclement weather. Please review all Tournament Rules.
- Beginning of dialog content.
Sorry
You must be registered for an event during this weekend to see participant content.
- End of dialog content.
- Beginning of dialog content.
Please Sign In
- End of dialog content.