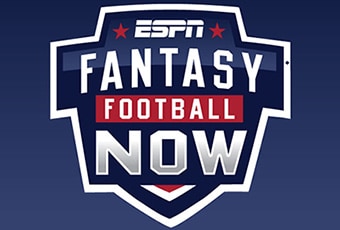 Gain the ultimate edge in your league this year by drafting with ESPN Fantasy Experts and Personalities including Matthew Berry, Adam Schefter, Chris Mortensen, Tim Hasselbeck, Stephania Bell, Trey Wingo, Robert Flores and Sara Walsh.  
Registration is now open for the Inaugural ESPN Fantasy Football Convention at ESPN Wide World of Sports Complex at
Walt Disney World
® Resort.
Dates:
August 22-23, 2014
Ages:
All
Entry Fee:
$349 per person
Your registration includes:
Unprecedented access to ESPN Fantasy Experts
Form a League. Participate in a live draft. ESPN Fantasy Convention League winners will receive a custom trophy.
An exclusive ESPN Tailgate Party
Judge the Official ESPN Chili Bowl Competition, featuring World Class Chefs
Sit in on a live broadcast of Fantasy Football Now on ESPN2
Ask the experts in a post broadcast Q&A
Photo-op with ESPN Fantasy Talent
All registrations in the ESPN Fantasy Football Convention are non-refundable and non-transferable between participants.
Directions, Venues & Maps
The 2014 ESPN Fantasy Football Convention will take place at the following venue:

ESPN Wide World of Sports Complex
700 S. Victory Way
Kissimmee, FL 34747



EVENT AT A GLANCE
DATES
Event:
August 22 – 23, 2014
Registration:
Opens June 24, 2014
- Beginning of dialog content.
Sorry
You must be registered for an event during this weekend to see participant content.
- End of dialog content.
- Beginning of dialog content.
Please Sign In
- End of dialog content.