DWWS_Events_Disney_Spring_Training_Overview_Register_Now
Begin your baseball or softball season at the top of your game with Disney Spring Training at ESPN Wide World of Sports Complex at Walt Disney World Resort in Florida. Combine a top-notch training experience with unforgettable team-bonding opportunities and unmatched Disney service.
Explore more important details about rules, participating teams, spectator admission tickets, athlete waivers and all upcoming event updates on our
event microsite
.
PROFESSIONAL-CALIBER FACILITIES
Allow athletes to work out and train on the same fields, baseball and softball diamonds used by pro athletes and Olympic champions. ESPN Wide World of Sports Complex features over 220 acres of grass playing fields, baseball and softball diamonds and tennis courts—much of it with lighting for nighttime play.
TEAM BONDING
Happens both on and off the field, when coaches and players practice together at ESPN Wide World of Sports Complex and then celebrate together during the Walt Disney World Resort 50th Anniversary, an 18-month event where you'll discover classic favorites and exciting adventures across The Most Magical Place on Earth.
WE'VE GOT YOU COVERED
When it comes to training here. Registration fees cover all games and practices (including officials and scorekeepers), on-site athletic trainers, game balls, water at all fields and dugouts, and shaded spectator seating. Plus, enjoy limited live streamed games!
SCHEDULING IS A BREEZE
With access to an online platform that allows coaches to request specific dates, preferences and the number of games, practices and clinics that they would like, creating an customized itinerary that is perfect for every team.
ACHIEVE GREATER PERFORMANCE
With Speed and Agility clinics, aimed at improving strength and mobility.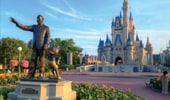 ONE PROPERTY, A WORLD OF CONVENIENCE
Awaits as accommodations, athletic facilities, restaurants, retail stores and the world-renown Disney Theme Parks are all within a few miles of on one another, creating a campus-like experience for baseball and softball teams participating in Disney Spring Training.
EVENT AT A GLANCE
DATES
Event:
March 12 – April 15, 2023
Registration:
Tuesday, May 31 - Monday, December 19, 2022
TEAM REGISTRATION
$5,500 USD per team
CONTACT
Disney Spring Training Office
Email Us
(407) 938-3800
- Beginning of dialog content.
Sorry
You must be registered for an event during this weekend to see participant content.
- End of dialog content.
- Beginning of dialog content.
Please Sign In
- End of dialog content.