Este año disfruta cerca de algunos de los mejores talentos profesionales de Puerto Rico y de una celebración hispana en un ambiente familiar en el complejo deportivo ESPN Wide World of Sports Complex.
Breve Resumen
En su año inaugural, el Festival de Béisbol Latino contará con la participación de dos equipos de la Liga de Béisbol Profesional Roberto Clemente de Puerto Rico enfrentándose en el complejo ESPN Wide World of Sports del 20 al 22 de Noviembre del 2015. La serie de tres juegos presentará un partido cada día entre los Cangrejeros de Santurce y los Indios de Mayagüez.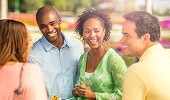 El Festival
¡No todo es béisbol! Ven a celebrar con familiares y amigos recordando un poco de tu tierra antes de empezar los partidos de cada día. Desde el 19 de Noviembre, día del Descubrimiento de Puerto Rico la celebración continúa a lo largo del fin de semana en el ESPN Wide World of Sports Complex con música, comida y diversión para todos en este nuevo evento!
Entradas
Los aficionados del béisbol pueden comprar entradas para un solo jugo o para varios juegos del Festival de Béisbol Latino. Todas las entradas permiten el acceso al Festival y a los juegos en se dia y están disponibles para su compra en ticketmaster.com o llamando al 407-939-GAME. El estacionamiento es gratuito.
Precios de entradas para un dia:
Asiento Reservado – Primer Nivel: $30
Asiento Reservado – Segundo Nivel: $25
Asiento Reservado en las Gradas (bleachers): $25
Admisión general en la grama: $17.50
Precios de entrada de dos días:
Asiento Reservado – Primer Nivel: $54
Asiento Reservado – Segundo Nivel: $45
Asiento Reservado en las Gradas (bleachers): $45
EVENT AT A GLANCE
DATES
Friday, November 20, 2015
at 7:30 PM
Saturday, November 21, 2015
at 6:00PM
Sunday, November 22, 2015
at 1:00 PM

TICKETS ON-SALE
September 14, 2015
TICKET PRICING
Single Game Tickets:
$17.50 - $30

2-Day Tickets:
$45 - $54
PURCHASE TICKETS HERE