ESPN_Event_Soccer_Disney-Boys-Soccer-Showcase_Overview_RegisterNow
The Disney Boys Soccer Showcase is the ultimate place for top clubs to display their skills and talent for college coaches looking for prospective student athletes.
December 27-31, 2021
Disney's Magical Express
Disney's Magical Express service will no longer be offered starting with arrivals January 1, 2022. The service will continue to operate for new and existing reservations made at Disney Resort hotels for arrivals throughout 2021.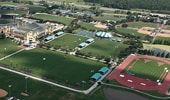 Professional Quality Competition Venues
Competing at ESPN Wide World of Sports Complex at Walt Disney World Resort means you'll get to play where the pros play. ESPN Wide World of Sports Complex features professionally maintained competition venues. Click the Map to the right for a detailed view of the Complex.
EVENT AT A GLANCE
DATES
Event:
Dec. 27 - 31, 2021
ELIGIBILITY
Team:
This is an FYSA Sanctioned Tournament, which is open to all USSF/FIFA affiliated organizations for boys in age groups U15–U19.
Age Divisions:
U15–U19
Player Eligibility:
Ages are based on USYSA guidelines for 2021/2022 birth year and season. Open to state cup or higher level teams.
COMPETITION LEVEL
High
TEAM ENTRY FEE
U15-U19 (11v11): $2,075
APPLICATION DEADLINE
Monday, September 6, 2021
Events may be subject to availability, capacity limits, eligibility requirements, delay, change or cancellation for inclement weather. Please review all Tournament Rules.
- Beginning of dialog content.
Sorry
You must be registered for an event during this weekend to see participant content.
- End of dialog content.
- Beginning of dialog content.
Please Sign In
- End of dialog content.