Don't miss a magical moment! Purchase a reservation with ESPN Wide World of Sports Gameday Photos and a professional Disney photographer will cover your team and/or athlete.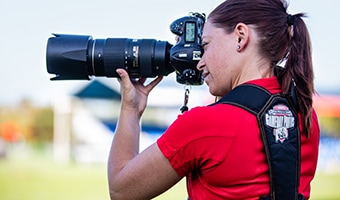 Gameday Photos Sports Photographer
Don't miss a minute of the action—purchase and reserve a Gameday Photos Sports Photographer to capture your star athlete or team! Our sports photographers have special access that allow them to capture images from right in the middle of the action! The high-resolution images can be downloaded to any smart device or computer, making them easy to share.

Please note: Gameday Photos does not photograph all games, so be sure to reserve a Gameday Photos Sports Photographer in advance to ensure your players get the high-quality coverage they deserve.
View and Download Your Gameday Photos
Once your reservation is complete, your Gameday Photos Sports Photographer will provide instructions on how to claim your photos online or via the My Disney Experience App. Your photos will be available to download for 45 days after they are captured at the event. To access your photos, you will need to create an account or link them to your existing Disney account. Please call (407) 939-1521 with any questions you may have.
Create a Unique Keepsake
Put your favorite athlete where they belong—on the cover of ESPN the Magazine—or on a personalized photo ball, coffee mug, blanket and more! To learn more about one-of-a-kind keepsakes and other Gameday Photos services, visit the Gameday Photos Experience in the State Farm Field House, or look for the green screen at one of our mobile locations near your playing field. Or you can call us at (407) 939-1521, or email us at wdw.gameday.photo@disney.com.