Welcome! The following information will help you plan for your trip to ESPN Wide World of Sports Complex.
Transportation
All guests are responsible for providing their own transportation to and from the ESPN Wide World of Sports Complex and other event competition venues unless special transportation has been arranged specifically for your event.

Bus transportation to ESPN Wide World of Sports is available from Disney's All-Star Sports Resorts, Disney's Caribbean Beach Resort and Disney's Pop Century Resort on a limited schedule:

Complex open until 1 hour after event ending time.

These buses will also run when events are taking place at the sports complex based on the following schedule:

One (1) hour prior to sports complex opening until one (1) hour after sports complex closes.

During the scheduled operating hours, buses from Disney's All-Star Sports Resorts, Disney's Caribbean Beach Resort and Disney's Pop Century Resort to ESPN Wide World of Sports will arrive at the sports complex on the hour and ½ hour.

Due to capacities and schedules, these buses may not be able to accommodate teams and equipment. To ensure your team's on-time arrival for competition at ESPN Wide World of Sports, please use event transportation if it is included with your event, or make arrangements for your own transportation to the sports complex.
Parking
Parking is available at the ESPN Wide World of Sports Complex. General parking is free and for select events, premium and platinum parking are available. In the event the Sports Complex parking lots fill to capacity, guests will be directed to alternate parking locations.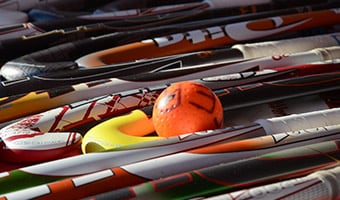 Equipment Drop Off
For select events taking place at the ESPN Wide World of Sports Diamondplex or Marathon® Sports Fields at ESPN Wide World of Sports Complex, teams will be able to drop off equipment in the designated drop-off zone for loading onto an equipment pargo. Please follow the signs to the designated zones. One team representative must escort the equipment to the field. The equipment pargo is for transportation of equipment only.

Lockers and Equipment Storage
Shower, locker room or storage facilities are available at ESPN Wide World of Sports Complex for select events on a limited basis. Please consult your event organizer for more information.
Credentials
Athlete and coach credentials will be distributed at registration. To receive credentials, each team must have already paid their tournament entry fee and must present completed Disney Sports waiver forms for each athlete and coach. Minors (under age 18) must have a parent or legal guardian sign the Release and Indemnity section. Coaches may pick up credentials for the entire team by providing the proper documents for verification.

The credentials specifies the areas of the sports complex that may be accessed as well as the dates of validity. Once received, it must be visible to gain admittance into ESPN Wide World of Sports Complex. Credentials are non-transferable. If a credential is lost or stolen, it will be necessary to pay a replacement fee.

Please note that ESPN Wide World of Sports Complex uses a biometric ticketing system that matches each ticket and credential to a specific individual. In order to ensure a smooth entry, everyone is advised to write their name on the back of their credential/ticket, especially if the coach will be collecting and distributing the credentials each day of the competition.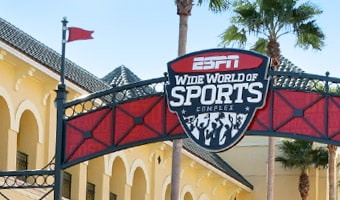 Complex Admission
For guests who are not athletes or coaches participating in an event, an admission fee is required for entrance into ESPN Wide World of Sports Complex
General ESPN Wide World of Sports Complex admission prices:

Adults (ages 10+): $19.50
Children (ages 3 - 9): $14.50

For many events, length-of-event admission tickets are available. See event-specific information for pricing. *Premium and Special Events may require additional admission.
Complex Rules
To ensure a safe and enjoyable experience for all Complex Guests, please respect the
Complex rules
.
Wheelchairs
For Guests requiring assistance, wheelchairs are available to rent at the ESPN Clubhouse Shop. Valid photo identification is required to secure a wheelchair. Wheelchairs are for use only at the sports complex.
Daily: $12 (with $100 refundable deposit)
Restroom Facilities
Restroom facilities are available at all competition venues.
Concession/Dining Facilities
A variety of dining and snack options for all ages and tastes are available at the ESPN Wide World of Sports Complex. Grab a bite and catch up on the day's sports highlights on the big screens at the ESPN Wide World of Sports Grill. Pick something up on the go at concession locations throughout the complex. Or make plans in advance with a ® Resort restaurant.
, a special function, or reservations at a Walt Disney World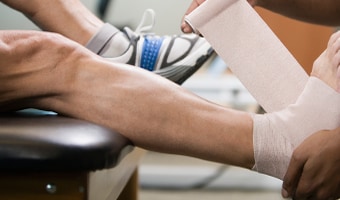 Medical Assistance
During events, athletic trainers, provided by

Automated External Defibrillators (AEDs) are available at ESPN Wide World of Sports Complex, as well as the Walt Disney World® Resort. AEDs can be used by any Cast Member, or guest, in response to a cardiac emergency. No training or certification is required, as the device will prompt the user with step-by-step verbal instructions. See your official ESPN Wide World of Sports guide map for icons denoting AED locations, or stop by the Welcome Center for more information.
, are present at the Complex and are able to respond to athlete injuries. Athletic trainers, provided by , also may be available for preventative taping pre-event, subject to availability and other restrictions.
Weather Policy
In the case of lightning or other severe weather conditions, all competition will be halted and all guests will be directed by public address announcements and Disney cast members to an appropriate shelter. Please refer to tournament rules for information on specific policies for your event.
Pet Policy
Pets or animals, except service animals (seeing eye dogs, hearing dogs, etc.), are not permitted into ESPN Wide World of Sports Complex.
Photography
Gameday Photos Photographers are ready to commemorate your special sporting event by shooting right in the middle of the action! With our exclusive access to areas on every playing surface, we get the shots that casual spectators simply can't get. This unique advantage provides us with better camera angles, from the closest distances possible to capture the best available images. It lets fans sit back and enjoy the game!

To ensure you receive the best photos possible, our Photographers shoot teams and individual athletes who make a reservation in advance. To capture the memories of your big event, reserve a Photographer and then let us focus on your athlete.

Reserve early and save! Reserve your Photographer prior to arrival at the ESPN Wide World of Sports Complex by visiting us on-line at disneyurl.com/gamedayphotos. If you are unable to reserve online prior to your event, you can make a new reservation or modify an existing reservation when you arrive on-site, subject to availability. Just visit the ESPN Wide World of Sports Welcome Center as soon as you arrive to be directed to the nearest photography reservation kiosk.

After you have made your photography reservation you will be provided with a 16 digit code that will allow you to access your images at a Gameday Photos kiosk on-site or at gamedayphotos.com. Be sure to visit a Gameday Photos kiosk while you are still at the ESPN Wide World of Sports Complex, and take advantage of event specific photo merchandise. Create and purchase a one-of-a-kind photo keepsake of your athlete or event, such as a customizable poster or a personalized cover of ESPN The Magazine.
Tent Policy
Only pop-up style tents are allowed, however no stakes, ropes or weights are permitted.
The tent can be no larger than 10' x 10'.
Tents must come down during storms.
No tents can be left overnight (all tents must be removed at the end of each day).
ESPN Wide World of Sports Complex is not responsible for damage.
We reserve the right to require tents to be taken down for visual obstruction, weather, or blocking of flow of traffic.
The tent cannot display advertising or logo.