Grab a bite and catch up on the day's sports highlights on the big screens at the Grill, have meals delivered to your field between games, or stop at any one of the food trucks or concession stands.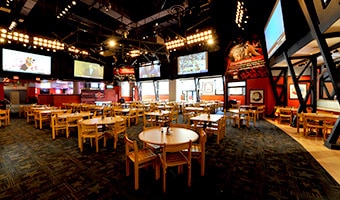 ESPN Wide World of Sports Grill
The ESPN Wide World of Sports Grill is a quick-service restaurant located across from the Champion Stadium. Operating hours vary by season, and menu items include burgers, sandwiches, and salads as well as an assortment of desserts and beverages. The restaurant also has a full bar which is open during restaurant operating hours.
Concessions
Concession stands and carts offering a variety of sandwiches, side items and healthy snacks are located throughout the ESPN Wide World of Sports Complex. Locations and operating hours may vary based on competition schedules.
Enhance Your Event
Sports Group Enhancements are available for your event. Ensure your team is well fed—arrange a boxed team meal or catered dinner buffet to fuel up after a fun day of competition or to celebrate an amazing trip.