DWWS_Events_Soccer_DisneyPresidentsDay_Overview_Apply
Looking for a great opportunity with your team during winter break? Look no further than the Disney Presidents Day Soccer Tournament. Taking place in mid-February, this tournament offers your team great competition at the incredible ESPN Wide World of Sports Complex, where you're treated like a champion and can celebrate like one, too—and it's in the middle of all the Walt Disney World Resort®
This tournament is part of the Disney Cup Soccer Series, our new multi-tournament series, where your team has the option to participate in a single event, or opt for a multi-tournament series and participate in various events throughout the season for a chance to become the champions of the Disney Cup Soccer Series! Teams will play in each of those three events earning points based on their performance. (For example 3 points for a win, 1 point for a draw, and 0 for a loss.) These points will be tallied up after the 3rd event's group stage and determine which team will advance into the multi-series single elimination Knockout Round to compete for the series champion title.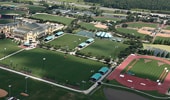 Professional Quality Competition Venues
Competing at ESPN Wide World of Sports Complex at Walt Disney World Resort means you'll get to play at a world-class facility, featuring professionally maintained competition venues, while enjoying our renowned Disney service.
EVENT AT A GLANCE
DATES
Event:
Feb 19 – 21, 2022
ELIGIBILITY
This is an FYSA Sanctioned Tournament, open to all USSF/FIFA-affiliated organizations for boys and girls.
Age Divisions:
U9-U18/19
Player Eligibility:
Players ages 9 to 19 may participate. Ages are based on USYSA guidelines for 2021/2022 birth year and season.
COMPETITION LEVEL
Moderate – High
TEAM ENTRY FEE
U9/U10 (7v7): $825
U11/U12 (9v9): $875
U13-U19 (11v11): $1,075
CONTACT
Disney Soccer Sales Office
Email Us
- Beginning of dialog content.
Sorry
You must be registered for an event during this weekend to see participant content.
- End of dialog content.
- Beginning of dialog content.
Please Sign In
- End of dialog content.